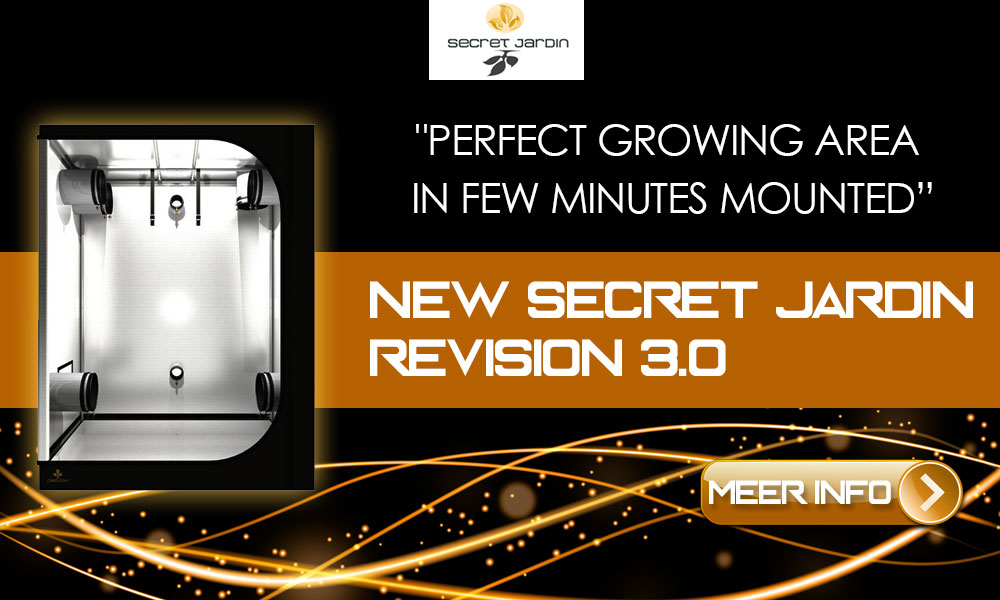 Secret Jardin is market leader in Grow Tents and always been a reliable partner of Garden Centre Holland. Secret Jardin has a suitable grow tent for every grower available, in many different series, each with their own unique characteristics.

EASY SETUP
The Secret Jardin Grow Tent is easy to set up because of the handy tube system
WASHABLE
The cover of the Secret Jardin is washable completely at 40 ℃
STRONG FRAME
Because of the strong frame of the Secret Jardin you can hung as well as all the equipment
100% LIGHTPROOF
The Secret Jardin grow tents guarantee a 100% light density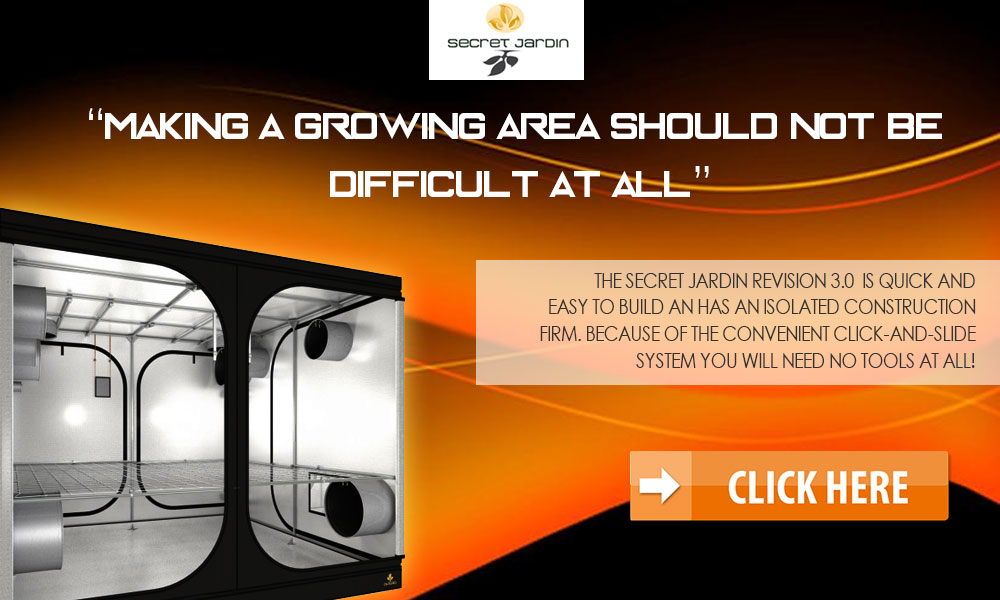 Secret Jardin Dark Street grow tents are ideal for the budget conscious grower who hangs not all heavy equipment at the 16MM stainless steel tubes, they are nevertheless strong and can take a beating.

Secret Jardin Dark Room Grow Tents are made for the professional grower who will not settle for less. The 22MM stainless steel construction ensures that all equipment can be hung securely. The indestructible tent will allow no ray of light and is highly tear resistant.

The Secret Jardin Lodge is one of the newest grow tents Secret Jardin.This sort of grow tent can be used for both growth and flowering. The grow tent is equipped with two separate parts to separate your crop.
The Secret Jardin Dark Propagator is ideal for small plants, plant cuttings, or to for growth. This tent is lightweight and waterproof, the reflective material is Mylar (190D) 95% reflective material the light is better distributed. The compact design of the grow tent is very easy to use it in places where there is not much height.

The Secret Jardin Crystal tents are unique in shape so that they provide better heat dissipation, and they are very easy to install. The tents are easy to assemble and can be used only with CFL. These tents are ideal for the production of your vegetable and crop.
Secret Jardin comes with the "Secret Jardin Twin Series" grow tent. The grow tent is designed for mother plants, cuttings, growth and flowering. The tents are easy to set up and all have a waterproof bottom and strong tubes.
Secret Jardin is proud to announce the new grow tent that is completely on the inside with ORCA film. Secret Jardin is the first to use this film in their tents and has released it in Dark Room Revision 2.6 models.
The Secret Jardin Dark Dryer is with its dimensions of 90 x 90 x 180 cm an ideal dry tent for all your herbs and vegetables. The tent allows fresh air without light at all.

Secret Jardin Hydro Shoot are the budget tents from Secret Jardin. Good quality for a low price! So are all the tents with 100% mylar and have 16mm thick tubes.
Secret Jardin Intense is the name of the best-performing grow tent ever made. By continuing to innovate and perfecting the Secret Jardin Intense revision 3.0 series they succeeded again to surpass themselves.